Swap, Sell or Trade!  To add items to this page, please complete the form at the bottom of this page and submit.
05-31-2018
Contact Donald Drawdy N0FBV at n0fbv[at]knology.net
Need an OPC-581 cable for 706 Mark2 to connect radio to the remote head.
---
04-23-2018
Contact Dan Marshall, N1ADM at n1adm30813[at] gmail.com
I have several items for sale. All of these
are brand new, never used, and still in their original packaging.
DV Access Point (DVAP) Dongle, D-Star70cm $100
(cost $230 new)
Item description at HRO and DVAP Dongle Page
MicroHam USB CW Keyer $100
(cost $160 new)
Includes cable for Icom radios
Item description at Microham USA
K1EL CW Keyer & Reader w/Keyboard Interface $100
(cost $160 new)
Not a kit, fully assembled. Includes audio cable/adapter kit
Item description at K1EL
---
09-27-2017
Contact Joel Breakstone K1CQ at k1cq[at]att.net
I have 7 Rohn 55G sections and a single Rohn 20G section.  The 55G sections have some surface rust and two of the sections have bent rungs at the ends that I've pretty well pounded out with a hand sledge.  There's a base plate that goes with them and a few side clamps.  Not a bad deal at $125 per section.  I'll be cleaning up the rusted sections in the next few months so the prices may be subject to change.  Will consider swap offers on the 20 section and the 55G sections.
---
09-07-2017
Contact Dennis Terry W4SG at w4sg[at]outlook.com
Yaesu FT950 transceiver with boxes, manual, power cable, hand mic, USB cable from RT Systems to update firmware and kit to add panadapter – $875, SP767 speaker – $125, Kenwood PS50 linear power supply – $85.  This radio is a 2012 model with the latest DSP version.
---
06-26-2017
Contact Kenneth Parks AK4EP at kparks[at]atlanticbb.net or at 803-593-5673
Complete ham station , radios , power supply , 75′ tilt
over tower , antennas , etc. $2,800.00 Will NOT peice out. Station can be viewed on Qrz.com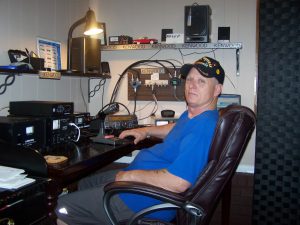 Kenwood TS-2000 with MC-60 mic , Ameritron ALS-600 , LDG AT-600Pro Autotuner
75′ Tilt Over Tower, 10 Element Bencher Sky Hawk HF Beam 20, 15, 10 Meters, Jetstream JTB1-2m/70cm Vertical, K4UUG built OCF 135′ Dipole at 60′  75/80m-6m.
---
11-14-2016
Contact Jerry Miller WA4NHJ at gmcmgm[at]comcast.net
Antenna Mast
Three section, 40 foot crank up mast with winches and cable.  Looks good. Haven't put it up on ground. Under cover. $200 or will trade.
---
Please complete the form below if you would like to post items on this page.  Also, please let us know once your items are no longer available so they can be removed from this page.