The Field Day Committee is responsible for planning and executing all aspects of the Amateur Radio Club of Columbia County, Inc. Field Day operations.
Each year on the fourth full weekend of January, many Amateur Radio  Operators participate in Winter Field Day.   Winter Field Day Association (WFDA) is a dedicated group of Amateur Radio Operators who believe that emergency communications in a winter environment is just as important as the preparations and practice that is done each summer but with some additional unique operational concerns.  More information regarding Winter Field Day can be found here: http://www.winterfieldday.com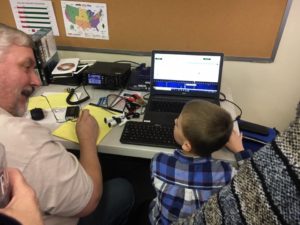 Additionally each year on the fourth full weekend of June, Amateur Radio Operators from all across North America participate in the ARRL Sponsored Field Day.  More information regarding ARRL Field Day can be found here: http://www.arrl.org/field-day
The ARCCC, Inc. will be participating in the 2019 ARRL Field Day on June 22, 2019 and will be operating from the Columbia County Emergency Operations Center, 650-B Ronald Reagan Drive, Evans, GA 30809.
This event will be open to the public from 2:00 PM until 8:00 PM.
There will also be a special VE Test Session for Field Day at 10:00 AM on Saturday, June 22.
Field Day Committee Co-Directors (2019)
Pete LaPierre – K1OYQ
JC Crawford – W4QK
Field Day Members (2019)
Jim Cunningham – KV4YA
Cindy Cunningham – KM4DBA
Dan Marshall – N1ADM
Tony Lawrence – KK4WAG
Devon Harris – KM4PHT
Shannon Covington – KK4MED
Samantha Clayborn – KM4NSF
Rick McKnight – NO3K
Andy Leanza – KN4EPC
If you would like to join the ARCCC, Inc. for the 2019 Field Day events, please complete the form below and a member of the Field Day Committee will contact you.