President
Dan Marshall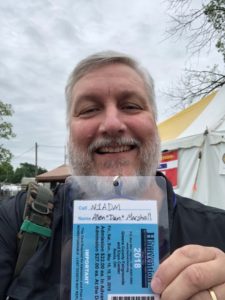 , N4MI
Dan grew up in Columbia County, and graduated from Harlem High School in 1980. Shortly afterward, he joined the U.S. Air Force, and spent 20 years serving as an Intelligence Analyst in overseas assignments in England, Greece, and South Korea. His last Air Force assignment was to Fort Gordon, and after retiring from active duty in 2003, he remained in Columbia County, and moved to  his home in Grovetown in 2015.
Dan has always been interested in electronics, computers and radios, but did not get his amateur radio license until 2016. He found a ham radio family and home in the Amateur Radio Club of Columbia County, and has served on several club committees. He enjoys all aspects of ham radio, but he especially enjoys DXing on the HF bands.
N4MI's QRZ page
N4MI's personal web page
---
Vice President
Bill Clark, WK4F
Bill will add his bio here.
---
Secretary
Samantha Clayborn, KM4NSF
Samantha will add her bio here.
---
Treasurer
Rick McKnight, NO3K
Rick will add his bio here.
---
Board Member at Large
David Corsiglia, WA6TWF
David will add his bio here.