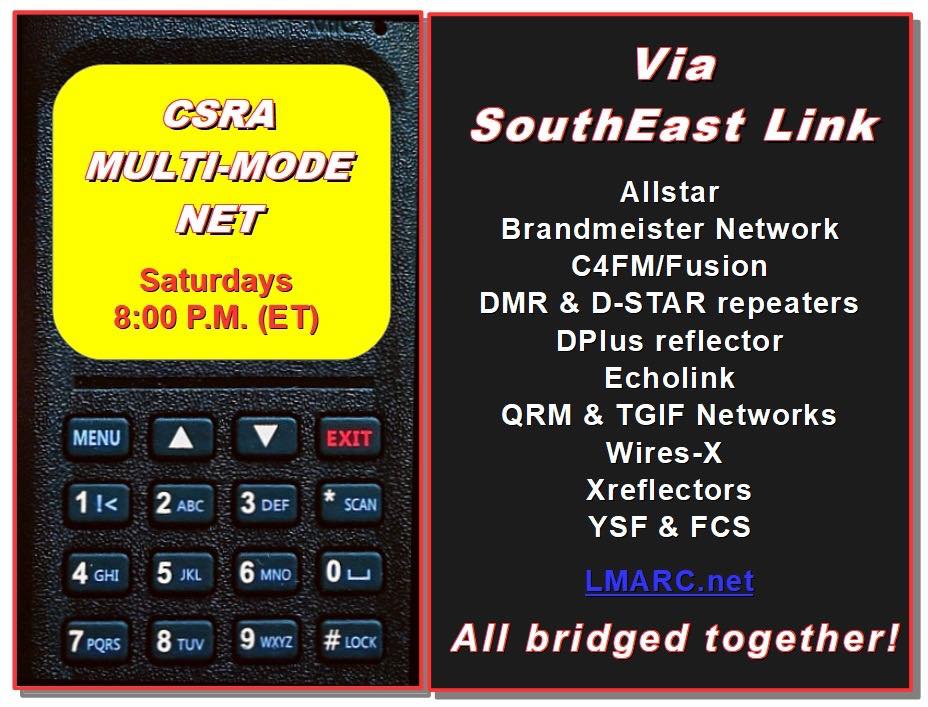 The CSRA *Multimode* Net is every Saturday at 8PM  Eastern
Come join us and talk ham radio and tech.  This net is NOT a DMR only net, it does include Allstar, EchoLink, C4FM, Fusion, DStar, DMR, M17, NXDN, P25, YSF, and WiresX.  We have all the modes connected together on the Southeast Link. We hope you'll join us and ragchew.  All Amateur Radio Operators are welcome and encouraged to check in.
This net will also be available locally on ARCCC's 146.985 repeater in Evans, as well as via Echolink on K4KNS-R (node 730492).
Here are all the different modes you can use to access the Southeast Link:
Allstar LMARC Node # 510131 – SouthEast Link Bridge System
Broadcastify / Radio Reference (listen only) Click here
C4FM – FCS Reflector – FCS002 Room 89 SouthEast Link, DMR2YSF TG 100289
C4FM – FCS Reflector – FCS003 Room 89 SouthEast Link, DMR2YSF TG 100389
C4FM – YCS Reflector – YCS310, Room #36 (Hotspot connects to FCS31036)
C4FM – YSF Reflector – "US SOUTHEASTLINK", Room #43389
D-Star – N4LMC-C 145.160 – located atop Lookout Mountain, GA
D-Star – W4RRG-B 444.725 – located atop Signal Mountain, TN
D-Star – DPlus reflector REF090-D (only for US Trust registered users)
D-Star – XReflector systems XRF913-D, XLX913-D, DCS913-D (primary)
D-Star – XReflector systems XRF139-D, XLX139-D, DCS139-D (secondary)
DMR – N4LMC 444.7125 – located atop Lookout Mountain, GA – TS2, TG 43389
DMR – W4PL 444.150 – located atop Signal Mountain, TN – TS2, TG 314722
DMR – Brandmeister Network, Talkgroup SouthEast Link #314722
DMR – DMR+ Network, QuadNet IPSC2 Server, TG 323
DMR – QRM Network, Talkgroup SouthEast Link #43389
DMR – TGIF Network, TalkGroup SOUTHEAST-LINK #43389
Echolink – Node N4LMC-L Node # 94680 – SouthEast Link Bridge System
Hamshack Hotline – Extension 94004
M17 – M17 Reflector M17-SEL D
NXDN – NXDN Reflector 43389
P25 – P25 Reflector 43389
Wires-X – N4LMC 442.650 – located atop Lookout Mountain, GA
Wires-X – N4LMC 442.725 – located atop Signal Mountain, TN
Wires-X Room – Room # 43389
For more information about the Southeast Link and to support other nets on this link please visit:  https://lmarc.net/club/